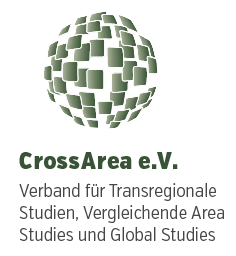 Entstanden aus einer Initiative zu stärkerer und langfristiger Kooperation von BMBF-geförderten Area Studies-Zentren und -Netzwerken mit entsprechenden universitären und außeruniversitären Instituten ist im Januar 2014 der Verein CrossArea e.V. in Leipzig gegründet worden. Dieser Verein versteht sich als ein Dachverband der in den Area Studies tätigen Forschungseinrichtungen, Vorhaben und Projekte. Gemeinsam mit dem Forum Transregionale Studien (Berlin) und der Max Weber Stiftung (Bonn) kuratiert er die Diskussionsplattform Trafo, auf der Nachrichten, Beiträge und Veranstaltungsankündigungen sowie Forschungsergebnisse aus dem Bereich der Transregionalen Studien veröffentlicht werden.
Ziel von CrossArea e.V. ist es, den gemeinsamen Anliegen der Area Studies, die in so vielfältiger Form organisiert sind, eine Stimme zu geben, um so den Wirkungsradius zu erweitern und die Vernetzung zu intensivieren. Dimensionen, in denen dieses Ziel erreicht werden soll, finden sich in der Satzung des Vereins.
Zu den Hauptaktivitäten des Vereins gehört die Ausrichtung einer Annual Conference, die seit 2014 an verschiedenen Standorten von Mitgliedsinstitutionen organsiert werden.
Aktivitäten
---
Tagungsprogramm
Ort
hybrid
Datum
Wednesday, 20. October 2021
Africa's Entanglement in the world
Die Tagung wird auf Englisch stattfinden, die MV auf Deutsch, in hybrider Form
Am Donnerstag, 18.11.2021
ab 13:00 Eintreffen, kleiner Mittagssnack & Getränke
14:00-14:15 Eröffnung
14:15-14:30 Impuls introduction "Africa's entanglement in the world"
14:30-15:30 Jana Hönke, Professor for Sociology of Africa, UBT Africa-China – How do emerging powers challenge traditional theory and practice of international relations: through taking infrastructure sites and practices as starting point (www.infraglob.eu, Rethinking Political Geographies from the Global South)
15:30-16:00 Kaffeepause
16:00-17:00 Jens Heibach, Postdoctoral research fellow, GIGA, DFG-Project (MENA) Middle East regional powers in Africa: preliminary notes on the causes and modes of their engagement
17:00-17:30 Pause
17:30-18:30 Mitgliederversammlung (intern)
Ab 19:00 Gemeinsames Abendessen
Freitag, 19.11.2021
9:00-10:00 Alexander Stroh-Steckelberg, Professor of Political Science: African Politics & Development Policy, UBT Subregional integration in Africa and the selection of regional judges
10:00-10:15 Pause 10:15-11:15 Sabelo J. Ndlovu-Gatsheni, Chair of Epistemologies of the Global South with Emphasis on Africa, UBT The Cognitive Empire and Decolonial Turns in African Studies
11:15-11:30 Pause
11.30-12.30 NN Africa & Latin America / Open slot, announcements, points raised by members
12:30-13.30 Mittagsimbiss, Abreise
CrossArea Mitgliederversammlung 2020
Ort
online
Datum
Monday, 07. December 2020
Die Mitgliederversammlung des Vereins CrossArea fand am 7. Dezember 2020 von 15 bis 17 Uhr online via Zoom statt.
Tagesordnung Mitgliederversammlung
1. Begrüßung und Annahme des Protokolls der letzten Sitzung
2. Berichte zu den Vereinsaktivitäten 2019/2020 (Andreas Mehler)
3. Kassenbericht 2019/2020 (Geschäftsstelle)
4. Wahl des neuen Vorstands
5. Merian-Zentren/CrossArea und die deutsche Wissenschaftsszene – neue Entwicklungen (anwesende Merian-Beteiligte)
6. CAS 2.0 (GIGA)
7. Wissenschaftsfestival (Matthias Middell)
8. Beschluss zur Jahrestagung 2021 (Vorschlag für Wiederaufnahme der Bayreuth-Idee)
9. Sonstiges
CrossArea Annual Conference 2019
Ort
Leibniz Institut für Globale und Regionale Studien (GIGA), Neuer Jungfernstieg 21, 20354 Hamburg
Datum
Thursday, 07. November 2019
Vom 7. – 8. November 2019 fand die diesjährige CrossArea-Jahrestagung im German Institute of Global and Area Studies (GIGA) in Hamburg statt.
Die Tagung war zweigeteilt: Während am Donnerstag die forschungsorientierte Diskussion im Vordergrund stand, fand am Freitag die CrossArea-Mitgliederversammlung statt.
Die Vorträge und Diskussionen beschäftigten sich mit dem Oberthema "Solidarität und Gegen-Solidarität: Cross-Area-Perspektiven". Um der transregionalen und cross-regional vergleichenden Perspektive von CrossArea gerecht zu werden, standen Beiträge im Mittelpunkt, die die Verständnisse und Dynamiken von Solidarität und Gegen-Solidarität aus verschiedenen Teilen der Welt adressierten.
Rückblick
Jahrestagung 2021 CrossArea e.V.
Tagungsprogramm
Wednesday, 20. October 2021 | hybrid
---
Jahrestagung 2020 CrossArea e.V.
CrossArea Mitgliederversammlung 2020
Monday, 07. December 2020 | online
---
Jahrestagung 2019 CrossArea e.V.
CrossArea Annual Conference 2019
Thursday, 07. November 2019 | Leibniz Institut für Globale und Regionale Studien (GIGA), Neuer Jungfernstieg 21, 20354 Hamburg
---
Jahrestagung 2018 CrossArea e.V.
CrossAreaStudies – Wie lokal können Regionalstudien sein?
Thursday, 01. November 2018 | Universität Duisburg-Essen, Campus Duisburg, Mercatorhaus/SG
---
Jahrestagung 2017 CrossArea e.V.
CrossArea e.V. Jahrestagung und Mitgliederversammlung 2017
Thursday, 09. November 2017 | Arnold Bergstraesser Institut Freiburg, Windaustraße 16, 79110 Freiburg im Breisgau.
---
Jahrestagung 2016 CrossArea e.V.
Jahrestagung 2016 CrossArea e.V.
Thursday, 22. September 2016 | Zentrum für Entwicklungsforschung (ZEF) Bonn, Walter-Flex-Str. 3 – D-53113 Bonn
---
Jahrestagung 2015 CrossArea e.V.
"Zum Platz transregionaler Verflechtungen in den Area Studies. Übersetzungen konzeptioneller Überlegungen in Studiengänge"
Wednesday, 23. September 2015 | Humboldt Universität zu Berlin, Institut für Asien- und Afrikawissenschaften, Invalidenstraße 118, 10115 Berlin
---
Jahrestagung 2014 CrossArea e.V.
CrossArea – Vielfalt und gemeinsame Interessen der Area Studies in Deutschland
Thursday, 27. March 2014 | Universität Leipzig
---
Vorstand
---
Dr. Doris Löhr
(Exzellenzcluster Africa Multiple, Universität Bayreuth, Vorsitzende)
Dr. André Bank
(GIGA Hamburg, stellv. Vorsitzender)
Dr. Ute Rietdorf
(Universität Leipzig, Schatzmeisterin)
Antje Zettler
(Universität Leipzig, Schriftführerin)
Beisitzer und Beisitzerinnen
---
Prof. Dr. Olaf Kaltmeier
(Universität Bielefeld)
Prof. Dr. Matthias Middell
(Universität Leipzig)
Prof. Dr. Karen Shire
(IN-EAST Duisburg)
Dr. Hannes Warnecke-Berger
(CELA, Universität Kassel)
Mitglied werden
---
Wir sind über jede Form der Unterstützung unserer Initiative dankbar und begrüßen es ausdrücklich, wenn Sie auch interessierte Kolleginnen und Kollegen über unser Vorhaben informieren. Wenn Sie sich bei CrossArea engagieren möchten, freuen wir uns auf die Zusendung Ihres Mitgliedsantrags. Es besteht sowohl die Möglichkeit zu einer institutionellen Mitgliedschaft (von Zentren, Netzwerken, Instituten, aber auch Vereinen und Verbänden) als auch zu einer individuellen Mitgliedschaft. Die Höhe des Mitgliedsbeitrages richtet sich nach der dem Status der Mitgliedschaft (individuell oder institutionell) und beträgt jährlich: Individuelle Mitgliedschaft (natürliche Personen) 40 € Für individuelle Mitglieder (Vollzahler) 20 € Für individuelle Mitglieder (ermäßigter Tarif bei Vorlage einer Bescheinigung über den Studierendenstatus bzw. bei Nachweis von Arbeitslosigkeit) Institutionelle Mitgliedschaft (juristische Personen, universitäre und außeruniversitäre Lehr- und Forschungseinrichtungen, wissenschaftliche Informationseinrichtungen, Einrichtungen der Aus- und Weiterbildung, Vereine, Verbände von Körperschaften des Privatrechts oder des öffentlichen Rechts etc.) Mindestens 200 € Es besteht die Möglichkeit, dass sehr große Einrichtungen sich bereit erklären,einen höheren Mitgliedsbeitrag zu entrichten , um die Ziele des Vereins zu fördern. Mitglied werden Mitglied werden       Beitragsordnung